1. Overview
As well as Zendesk's monthly subscription option payable by credit card, we also have a number of alternative and flexible payment options to suit your specific needs. If you're unable to use a credit card to trial or buy an app or want an annual instead of a monthly plan, then we've got you covered. Check out our trial and payment options below for more details including:
Trial Apps without needing to use a Credit Card

Pay by Invoice using Bank Transfer or Credit Card on an Annual Plan

Custom pricing for Enterprise with large agent numbers

Frequently Asked Questions (FAQ's)
2. Trial Apps without needing to use a Credit Card
If you want to try an app before you buy, but entering your credit card details for the trial via the Zendesk marketplace is a showstopper, we can provide you with a "preview version" of the app that you can trial in your Zendesk. Contact us via contact us via support.lovestockleaf.com with the URL of your Zendesk instance, which will be something like (companyname.zendesk.com). We'll then be able to assign the trial app to your Zendesk. After the 14 day trial period expires and you want to proceed with purchasing the app, you can sign up via the Zendesk Marketplace using a credit card or we can organise to set you up on an annual plan as per below to pay by Bank Transfer.
3. Pay by Invoice using Bank Transfer or Credit Card on an Annual Plan
For customers that prefer it, we offer an annual recurring subscription (payable up front via invoice), which can then be paid by credit card or international bank transfer.
The latter payment method incurs a nominal fee to cover international bank transfer processing charges. If the annual plan is preferable, please contact us via support.lovestockleaf.com and let us know how many agents will require access to the app. We can then put together a quote for your approval.
4. Custom pricing for Enterprise with large agent numbers
We also offer customers with large agent numbers a discount to move across to the updated app.
Please send in a request and let us know how many agents will require access to the app. We can then put together a quote for your approval.
5. FAQ - Zendesk App Payments
5.1 For those apps with per agent pricing, can I restrict agent permissions and only pay for those agents that require access?
Short answer, yes you can! When installing a Zendesk app you're given the option of enabling role and group restrictions. By restricting access to the app, you're also restricting which agents you're actually billed for.
To turn restrictions on, go to the app's setting in the Zendesk Admin Center.
To do this:
- Click on the cog icon on the left of the screen
- Click on Go to Admin Center
- Go to Apps and integrations > Zendesk Support apps
- Find the big icon of the app in question and click on it


Then at the bottom of the form, check the "Enabled role restrictions?" and/or "Enable group restrictions?".



Now you can enter the role(s)/group(s) you want to make the app available to.






If you select multiple roles, the agent only needs to be in one of the roles to have access.

If you select multiple groups, the agent only needs to be in one of the groups to have access.
IMPORTANT: If you enable both group and role restrictions, the agent must be in both one of the roles listed and one of the groups listed to have access.
The article below may also be handy regarding how to manage and create custom agent roles.
https://support.zendesk.com/hc/en-us/articles/203662026-Creating-custom-roles-and-assigning-agents-Enterprise-
5.2 How does the app free trial process work via the Zendesk marketplace?
The quickest and easiest way to set up a trial is to:
Click on the "Free Trial" button on the right hand side of the marketplace listing page for the app. As an example, for the Quickie PLUS app you would go to https://www.zendesk.com/apps/support/quickie-plus/

Select the Zendesk account/instance that you wish to install the app on.

Complete any installation settings (these can always be updated after install is complete)

Click on the "Buy" Button and then enter your credit card payment details.

Click on "Start Trial" and you're done!
The trial is activated automatically upon purchase and you will only be charged after the 14 day period expires.
If you don't want to proceed, then simply cancel within the 14 days by uninstalling the app.
5.3 How does the Zendesk Marketplace charge for apps?
The Zendesk apps marketplace charges your credit card for the usage of an app for the month in advance based on the Stripe payment system's pro-rata billing method. This amount is calculated based on the number of agents you have at the time of billing.
So if you're using an app charged at $2.50 per agent/month and you have 10 agents, then your bill will be $25.
However, another thing that is calculated in your bill is what happened during the previous month. When your plan changes during a billing cycle (e.g. agent licenses increase or decrease), a proration line item is applied on your next invoice. The prorated amount is calculated right down to the second you make the change to the agent numbers accessing the app.
So if at the start of the last month you were only using 5 agents, and then precisely halfway through the month, you increased that amount to 10, then your bill will be adjusted to take that increase into account.
So, for the extra 5 agents who used the app for half a month, you will be charged 5 * (half of 2.50)
ie. 5 * 1.25 = 6.25.
This amount will then be added to the $25 for the coming month, making your bill's total = $31.25.
6. Customer Billing Enquiries
6.1 Updating Credit Card Details
If your credit card details being used for an app subscription are due to expire, or you need to update your payment details as your account is past due or marked as unpaid, you can do so by contacting our support desk at support.lovestockleaf.com with the Subject Line: "Update Credit Card Details". Upon review of the incoming request, we will provide you with a unique link for your subscription/s so that you can securely update your credit card details.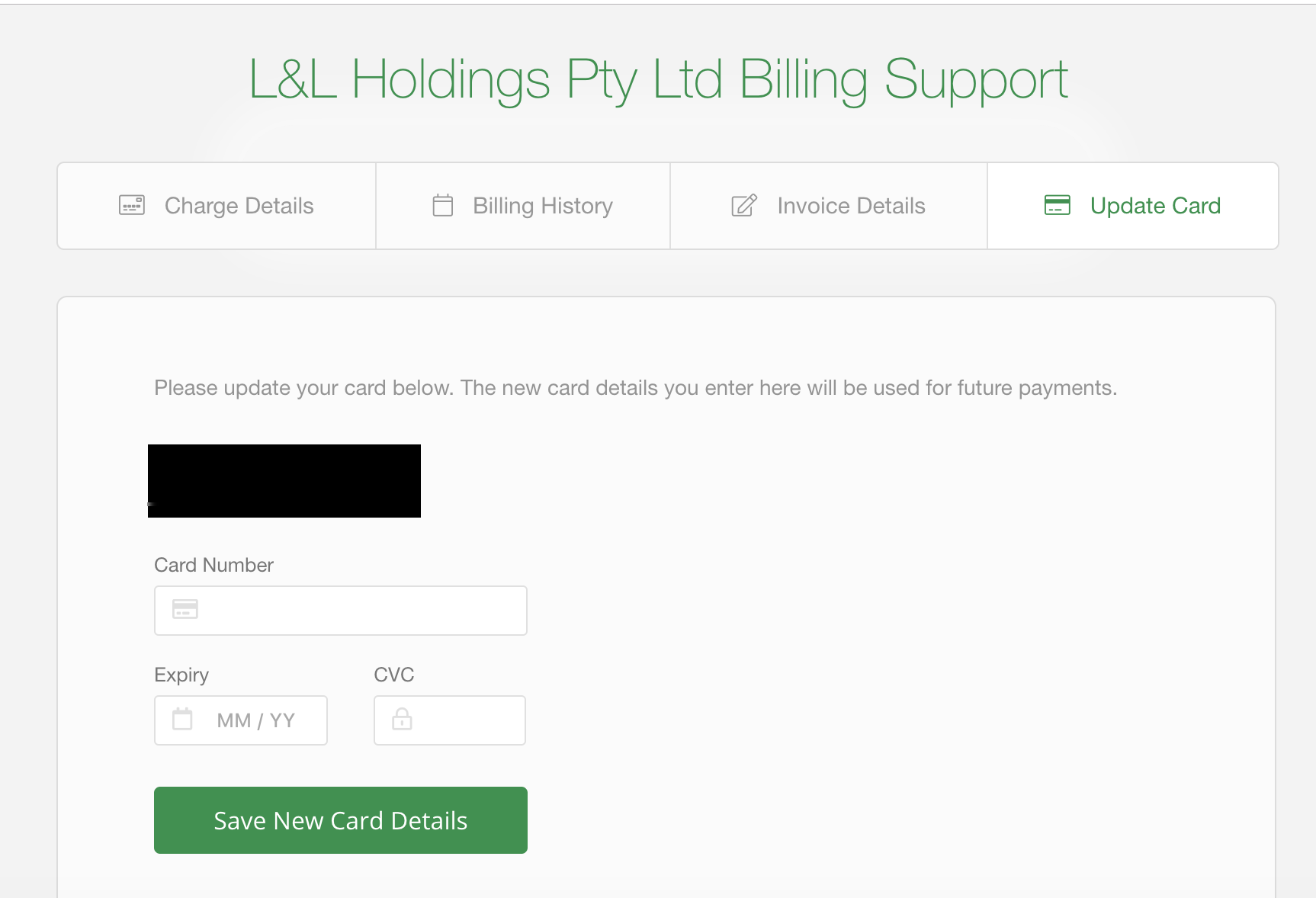 6.2 How do I change/add a new email address for receiving invoices/receipts?
By default, the email address associated with the Account Owner of your Zendesk instance is used for sending out receipts/invoices for your Lovestock & Leaf app subscription each month. To change this email address or add multiple recipients, please send in a support request via support.lovestockleaf.com with the changes you require and we will update these on your behalf.
6.3 How do I get a copy of an app subscription receipt and/or billing/invoice history?
When a customer is charged each month, they automatically get sent an invoice/receipt from the billing system to their nominated email address('s). Some customers for whatever reason never receive these and require a copy for accounting purposes. To get access to a full billing history and download invoices/receipts, please send us a support request with the name of the Zendesk instance that you require the documentation for and we will reply with a permanent link for you to access your full billing history at any time.