1 Overview
Tickler PLUS improves on the checklists introduced by Tickler FREE. Your agents can create checklists on the fly for each ticket.
You can read more about Tickler PLUS here:
www.lovestockleaf.com/zendesk/zendesk-apps/tickler.html
This guide was written based on version 2.1.8 of Tickler PLUS.
2 Using the Tickler PLUS app
The Tickler app is found in the right-hand ticket sidebar for both new and existing tickets.
By clicking on the plus (+) or clicking to the right of the plus, an agent can add a new task item. You can add as many items as you like. When you have finished entering your task, then you press ENTER.
When you are checking off the task items, the progress bar at the top of the app changes to reflect how many of your tasks you have completed. The tasks which are marked as completed or pending are greyed out. This is so you can focus on the tasks which have not yet been completed.
Tickler PLUS also supports additional task states, "pending" and "skip". You will notice that the completed graph clearly shows the 4 different states.
When you have completed all your tasks, then the progress bar changes to a "Completed" indicator.
The app can be configured to toggle, in any order, into any of the following states:
You can also edit an existing task item. You do this by clicking in the name of the task. It will turn the text area yellow and you can change the text. If you press SHIFT and then ENTER you will insert a new line. You can also delete the task item by clicking on the rubbish bin.
You can also change the order of tasks by using the grab handle and dragging and dropping the task to the new position.
Your task list will not be saved until you submit the ticket in Zendesk. If you do not submit your ticket and you close the ticket, then your changes will be lost.
2.1 Managing your Tickler Lists
One of the big advantages of Tickler PLUS is that it allows you to manage multiple list templates. To access this list templating feature click on "Saved Lists".
From here you have many options. If you would like to save your current list as a new list all you need to do is click "Create New List". Otherwise select a list to use from the dropdown box. With the selected list you can do a number of things, like, append the template's items to this list, overwrite the currently saved list with what you have in your list now or you can delete the selected list. You can have two types of lists, Private and Public lists, but more about that later.
2.1.1 Appending to a current list
Lets assume that you would like to append to your current list, the items contained in the Public list template called "List 1". First, select "List 1" from the dropdown. Then click the first icon on the left, you will see the tooltip below as you hover over it.
Once you click the "Append List" button, these items will then appear at the bottom of your list. You will see a confirmation bubble pop up for a few seconds and then fade away, also the newly added items will be highlighted for a few seconds.
2.1.2 Creating a new list template
Now that we have our new hybrid list. We can now save this as a new list if we want to. To do this all we need to do is click the "Create new list" button.
Fill in the details of the new list. As mentioned before a list can either be Public or Private. Anyone is allowed to save a Private list. As the name suggests, they are only available to you. If you are an Admin then you also have the option to save a Public list, these are then available to everyone.
Once the list has been added to the application, you will see a bubble pop up confirming this change.
2.1.3 Deleting items from a list
If you want, to empty your list you can do so. When you hover your mouse over the list you will see a "Delete all" button appear to the top right of the list. Clicking this button will remove all the items out of your current list.
Before we clear out your list you will get one last chance to change your mind. Clicking delete at this point will remove everything.
Now that we have cleaned out the list, lets check that the list we just saved worked as we expected. Select the list that you saved from the list dropdown box, and click the "Append" button.
You will see all the items that we just saved have been added back to your list. At this point it is worth noticing that all of the statuses are now set back to "To-do".
2.1.4 Updating your list template
Lets say that you don't like what you have in the "My List 2" list. You can easily change that. Here I have deleted some items and shuffled others around before I click "Replace list".
Again you will see a notification bubble up explaining what has just happened and confirming that the list has now been saved.
Lets see what got saved by appending that list to our current one. As you have probably guessed, we should see the items double up.
And here you have it. We have the items twice in our list, after appending the saved list to the original.
2.1.5 Removing a list template
Should you want to completely remove a list it is as easy as selecting the list from the dropdown, and clicking on the "Delete list" button.
As you would expect, you will see confirmation that the list has been removed. You may notice though that the items are still in your list.
The list template has been removed, but not any items from your current list.
3 Configuring the Tickler PLUS app
You can set the configuration options for app through the application settings. You can access this by clicking on "Admin" (the cog icon).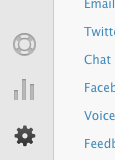 Next, click on the "Manage" item in the "Apps" section of Zendesk admin.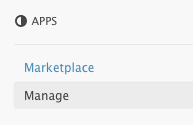 Once you are in this section you click on the cog icon for the app and click on "Change Settings" to edit the settings.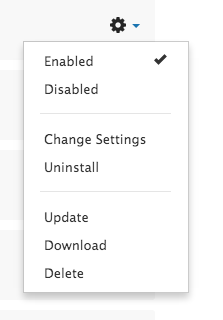 This will take you to the following screen.
This screen has the following options:
Title: This is the name of the app as it appears in the apps list.
Define the status order. This will define the order that your clicks on item's status will cycle through the list of available statuses. (n)one=no status, (d)one=ticked, (s)kipped=crossed and (p)ending=the hourglass. If a job has a status of Done or Skipped then it is considered to be complete.
Tickler data field This is the ID of the custom ticket field which is used to store the Tickler PLUS data. Note if you are upgrading from Tickler FREE then you can use the same field if you like.
Enable role restrictions?: Allows you to choose which agent roles that the app will be available for. If this is not ticked then all agents will be able to use the app.
3.1 Creating custom ticket field
Note If you are upgrading from Tickler FREE then you can chose to use the same field. In which case you can skip this step.
Tickler PLUS requires that a custom ticket field be created, and be present on every ticket form (if you are on Enterprise Zendesk subscription). Instructions for how to add a custom ticket field can be found at the following link.
You should create a multiline text field which is only available to agents. The recommended name for the field is "LLData_Tickler", however you can name it whatever you like. Don't worry - this field will be hidden by the Tickler PLUS app and your agents will not be aware that the ticket field has been created.
support.zendesk.com/hc/en-us/articles/203661496
Once the field has been created, you will need to edit the field, which will then show you the ticket field ID. This ID is what Tickler uses in the app configuration.
After you have created the custom ticket field, and changed the setting in Tickler PLUS, you will need to save the setting, and then you will need to refresh your browser, or log out of Zendesk and log back in again. New ticket fields are only available when you have refreshed Zendesk, or you log in again.
3.2 Creating custom user field
Tickler PLUS requires that a custom user field be created. Instructions for how to add a custom user field can be found at the following link.
support.zendesk.com/hc/en-us/articles/203662066
You should create a multiline text field and add it to the "Active Fields" list. You must name the field "LLData_Tickler".
After you have created the custom user field then you will need to refresh your browser, or log out of Zendesk and log back in again. New user fields are only available when you have refreshed Zendesk, or you log in again.